Pollen Academy have expanded their portfolio to include an 'Executive Leadership Coaching' course aimed at executives wanting to develop their vision and leadership skills both personally and professionally.
The course is run by Pollen Director and accredited coach Stephan Mang who has a wealth of knowledge and experience in coaching and mentoring as well as a passion for helping people achieve their goals.
Using skills from previous roles where he was an internal coach and mentor to senior managers, Stephan learnt how to help people shift their mindset and change to their better versions. It was here he decided to invest in completing the 'Coach Now' course to become an ICF certified coach.
Stephan says "I really thrive on seeing people have a breakthrough moment and taking action to make a change in their life and I'm proud to hear that former colleagues still cite the principles and belief systems we established together."
Director of Pollen Academy Ash Darley says "Now is the perfect time to invest in people and upskill so they can return to work stronger than ever. Executive Leadership Coaching bridges the gap between advising executives in a consultancy capacity and developing their skills to implement."
Executive Leadership Coaching is the process of assisting a person to make positive changes in a number of areas such as career, business, leadership and health amongst others. The program is designed to help identify road-blocks and increase clarity, whilst giving a structure to keep motivated and accountable throughout the journey towards success.
The aim is for the individual to become the best possible version of themselves whilst a coach acts as a motivational role through the following stages: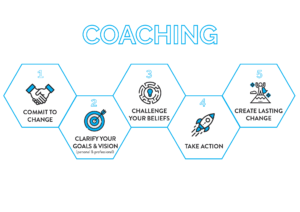 The structured coaching integrates a number of disciplines such as Neuro Linguistic Programming (or NLP), which is the language we use to speak mainly to ourselves (and others).
Stephan explains "By understanding how to communicate internally, we can rapidly change behaviour to produce the best possible outcomes. By using techniques designed to fast track success with the purpose of aligning internal and external resources towards a particular goal or outcome and enabling you to tap into your full potential."
The executive leadership coaching service is available for both business and personal goals, offering remote and face to face coaching sessions.
To learn more about Executive Leadership Coaching or to book a complimentary 30 min Clarity Session (limited spaces available) contact:
Stephan Mang: 0419 877 338 or email Stephan@pollenconsultinggroup.com